Exhaust pipe for allis chalmers d17 gas, 170 gas, 175 gas170, 175, D17 model engine(s).
Catalog Number: AC108

Exhaust Pipe For Allis Chalmers D17 Gas/LP SN#: 32001 and UP, 170 Gas, 175 Gas. 1-1/2" Pipe Thread X 4" Length. Replaces Allis Chalmers PN#: 234541, 70234541
Price:

$20.55
See Also
Intake And Exhaust Manifold For Allis Chalmers D17 Gas Series III And Series IV, Early D17, 170, 175 Gas
Chrome Exhaust Stack For Allis Chalmers: D17 Gas, WC, WD, WD45 Gas.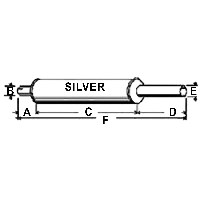 Muffler For Allis Chalmer: D17, WD45.
Muffler Bracket For Allis Chalmers D17 "Early Gas Models, WC "Styled", WD, WD45